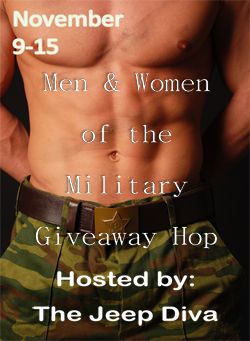 And while I have your attention I would love to give a huge shout out to our brave and strong U.S. Military! No matter the branch you serve I am grateful for all that you do for our country. To my wonderful husband, a former Marine Captain who served for over fifteen years, you will forever hold my heart!
And now for the goodies!
Today I have for you some awesome military romantic suspense not to be missed. Two fabulously talented authors, J.L. Saint & Avery Flynn, have donated the below titles to this giveaway for International readers. So no matter where you are you can enter. Thank you both, ladies! :)
And to add some spice to sweet mix I have some gorgeous military hunks to share. I know I know...I spoil you, but I'm naughty like that. ;)
ENJOY!
AS FOR HOW THIS ONE IS INCLUDED:
HE'S A SEXY MILITARY MAN PLAYING FOOTBALL...RIGHT?
Either way, that's my story and I'm sticking to it!
Temptation Creek
Avery Flynn
Back of the Book:
Claire Layton expects the usual busy Saturday night at Harvest Bistro to be killer on her stilletto shod feet. She never imagines there'd be an actual murderer on the loose at her restaurant in rural Dry Creek, Nebraska. But when she discovers a customer dead in a dumpster, the killer demands she find the victim's phone and flash drive or face fatal consequences.

Jake Warrick, a cocky and mind-numbingly hot private investigator, becomes Claire's unlikely ally in the search. Jake just wants to solve the case and get out of this hick town, but the diminutive and curvaceous Claire turns his plan upside down as they uncover a more complex crime than they ever imagined. The two bicker and banter like Tracy and Hepburn caught in a whirlwind of intense sexual attraction as they try to find the killer before it's too late.
Giveaway Number 3:
an electronic copy of Tactical Deception by J.L. Saint
Tactical Deception
J.L. Saint
Back of the Book:
One tormented soldier. One woman. Eight snipers. Someone's going down…

The fallout from the team's failed mission to Lebanon is still tearing Lt. Col. Roger Weston apart. God help them all if the media gets wind of the real story. Worse, guilt is eating him alive over a decision that left a fallen warrior's wife without a husband…and exposed to danger from her radical family.

No matter what, Mari Dalton's safety and wellbeing—and that of her unborn child—come first.

Mari is certain God is punishing her. She loved the man who rescued her from a windowless cell in Afghanistan, and never betrayed their marriage. But she has never been able to forget her body's reaction to Roger. Now she is the target of terrorists bent on destroying the heart of America. As Roger lays his life on the line to protect her, they uncover a plot already in motion to assassinate the President. As the world teeters on the edge of chaos, any hope for a future rests in Roger's already blood-stained hands…and the quietly faithful woman who holds his heart.







ABOUT J.L. SAINT:





USA Today Bestselling Author Jennifer St. Giles also writes as J.L. Saint and Jennifer Saints. She is a nurse and mother of three. She has won a number of awards for writing excellence including, two National Reader's Choice Awards, two time Maggie Award Winner, Daphne du Maurier Award winner, Romance Writers' of America's Golden Heart Award, along with RT Book Club's Reviewer's Choice Award for Best Gothic/Mystery.

Keep up with Jennifer...
Twitter: @jenniferstgiles
facebook: http://www.facebook.com/jenniferstgiles
website: jlsaint.com or jenniferstgiles.com


a Rafflecopter giveaway


Thank you so much for stopping in! Good luck to all and another warm thank you to the lovely J.L. Saint and Avery Flynn for making this giveaway possible for Bookin' It! You ladies rock!


Now go forth and enter more giveaways! :)